About Todsworthy Farm - A Working farm in the Stunning Cornish Countryside
Gallery - Click to Enlarge
Todsworthy Farm is a mixed enterprise of 70 acres. A family farm, where you will find cows with their calves, sheep, chickens and even a few pigs
There is a varied landscape of woods and fields and orchards with an abundance of wildlife including badgers, deer, foxes and rabbits. This natural environment is also home to a wide variety of birdlife found throughout The Tamar Valley. Buzzards are often seen flying high calling to each other and we are always pleased to see the arrival of swallows and house martins, a sure sign that summer has arrived. In the evening you will be serenaded by thrushes singing from the treetops to add to the tranquil atmosphere that is Todsworthy Farm.
History of The Cider Press
In the past, farm workers on Todsworthy Farm were rewarded with cider produced in the barn which is now the cottage we called The Cider Press. The apple orchards that produced the cider still exist, but unfortunately the press is no longer functional. The granite stone of the cider press can be found as a feature of the garden alongside the cottages.
History of The Hayloft
The ground floor of The Hayloft was known as a shippon, a Cornish name for a barn where cattle were housed and milked. The hayloft refered to the upper floor where straw for bedding and hay for winter feed was stored. You will be pleased to know that the straw and hay has since been removed and replaced by very comfortable en suite double bedrooms. Should you wish to sleep on a straw bed we would like to have a chat about what other strange ideas you may have!!
Farm Viewing and Education Barn
You are welcome to visit our animals in a purpose built viewing area and learn about our family's farming history as well as the local area. We will house various animals at different times of year and you can engage with the animals and learn about farming life. You are invited to help us at feeding time and have the opportunity to buy some of our home produced beef and pork with sausages and eggs being a firm family favourite.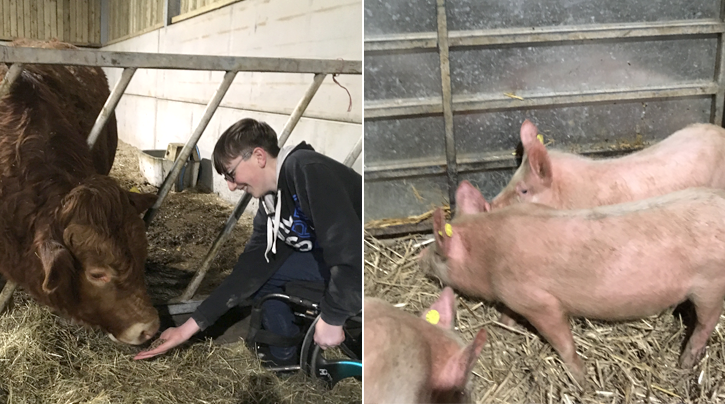 ---
This project has been part funded by the
Rural Development Programme for England: LEADER funding through The European Agricultural Fund for Rural Development